Guild Quests
Every season all existing guilds receive special quests on the web. The quests are selected randomly and are the same for all the guilds on the server. The quests need to be completed until the end of the season. The quests can be very different: from killing regular monsters and bosses, to winning different events or doing certain quests. All in all these guild quests are like mini achievements, but are done by the whole guild in a certain period of time. There are 10 active quests on rotation right now.
It can look like this: for 1 season, all the guilds on the server are hunting for gold monsters, the next 2 weeks they all are going to TDM, the next – breaking down the gates in BC, the next – hunting for white rabbits, or farming monsters in Kalima etc.

The season for Guild Quests lasts for 2 weeks(odyssey) and 1 week for (Luna). Starting and ending every second Sunday at 23:30. In this day, the players receive a reward for the previous season and new quests for the next season.
Rewards:
After the end of the current season, the guild members who participated in the quests receive rewards. To receive the reward, a player needs to do at least 3% of the total requirement for the quest. For example, if the task is to kill 5000 monsters, the player needs to kill at least 150, or else he does not qualify for the reward. The rewards for completing Guild Quests are divided into levels depending on the overall progress of the guild at the end of the season. Rewards are given out depending on what level of the quest the guild has completed. 

Items from grade 8 and higher you can craft in our
Craft system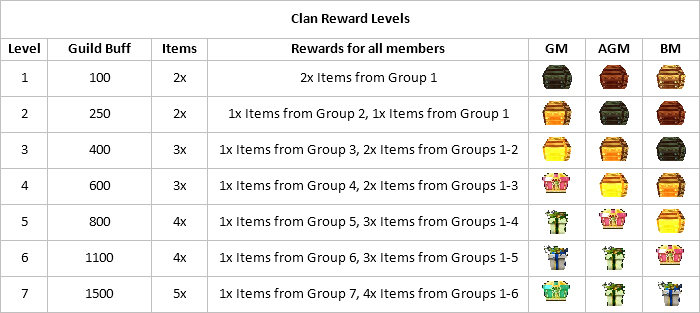 The rewards can be received on the website in the My Characters section. The reward items can have Luck and 1-4 excellent options with the same random chance as in the in-game drop. 
Depending on which level of the quest the guild has completed, the guilds Guild Buff will increase. At the end of the season, the rewards are given and the Guild Buf is reset. 
Edited by Григорий Белка, 07 October 2020 - 01:16.