eGames Luna x5 - Low Rate of your dream - opening 30 May at 18:00
 
The return of the player beloved low-rate server, with 15 resets and a pleasant dynamic experience system. Special attention was made to the games PvE part. During the years of constant updates, we now have features like Achievement buff, Guild buff, Set bonus, VIP buff, and additional stats for quests. All this is done to make the players more stronger, but the strength of monsters has remained practically the same. That is why, all the monsters starting from Lost Tower and higher are will be getting a significant boost and will slow down the progress of players moving from location to location.
 
Our exclusive game world concept: Arkania | Ruined Lorencia | Jungle Noria | Snowstorm Devias
 
Stadium location will now be open to the public on weekends on all servers. Starting from Saturday 10 am and until the end of the siege on Sunday. There are a lot of different spots on this location, several bosses and a special Zen spot. On weekends, when Stadium is open to everyone, players will respawn on same spot if they are being killed. At the end of the siege, on Sunday, all players, except the owners of the castle, will be teleported to the town.
 
One of the greatest new additions to the server is the Guild Quest system. Each week all the guilds on the server will receive a task - it may be to kill a certain amount of monsters, participating events, doing quests and many more. The guilds are given 7 days to complete the task and by the end of the the given time, all the guild members receive prizes in the form of Excellent items and additional Guild Buff, depending of well the guild has done the task. Full info about Guild Quests is found here.
 
Update in-game quests system with more than 280 quests. The total amount of stat points available after completing all quests has now exceeded 14 000. Stat points acquiered by completing in-game quests are nost lost after resets, so the more quests your character has completed, the stronger it becomes. To ensure that the most keen players don't fly too far from the more casual players, the quests are now opened gradually. At first only 100 quests are available - up to the first major boss Golden Dragon. When 10 players have completed the first 100 quests, another 20 are opened, untill the next boss. When 10 players have completed 120 quests, another 20 are opened and so forth. Also, the quests rewards will be personalized depending on what class your character is. For example, Wizards can get Evil Spirits, while Gladiators will get Rune blade, etc. Also, the quests which previously were rewarded with levels, will now give a set amount of experience depending on your dynamic experience rate. This means that on level 100 you could get +50 levels, but on 390 only +1. 
 
Analogically as quests, the max reset will increase gradually, which gives more chance for the not so hardcore players to catch up and compete:
to open reset 6, 20 players will need to have 5 resets completed
to open reset 11, 15 players will need to have 10 resets completed
to open reset 15, 10 players will need to have 14 resets completed
For example: There are 15 players with 5 resets completed. In this moment, they cannot complete the reset and start as lvl 1 and reset 6. To continue the grind, they will have to wait untill 20 players in total have completed 5 resets.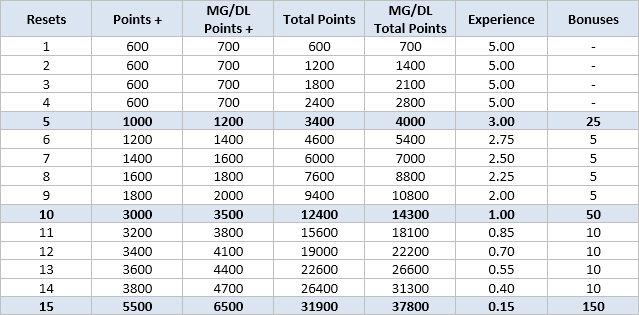 Cost of reset 
Zen
 1
00kk
 * amount of resets | Creation
 MG/DL
 - 
150/220 
Lvl |
guild and alliance system
40/60
Referral awards will be at the resets:
 6, 9 и 13 
The first 
Castle Siege
 will take place on 
Sunday, June 30th, 18:00.Crywolf
 event takes place every 
Wednesday on 21:30.
PK limitations on locations:
 Limitations for Donate:

Purchase of Power Buff will not be available at start. The service will be available on June 2nd
On start, purchase of additional stats will not be available. 31 May 200 stats will be available, 1st June 400, 2nd June 600, 3rd June 800, 4th June 1000, e.t.c
No separate VIP server and disabled ability to enchance items with 100% chance with fruits.
 
Information about our project here.
Full list of our servers information here.
Full guide on how to play on our servers here.